Computer Supported OCR Scanning & Reading Software
Devanagari OCR Scanning Software
For Scanning Hindi & Marathi Printed Materials
Devanagari OCR Software is used with JAWS latest version 14 Talking Software to read printed books, letters, agreements, etc. in Hindi & Marathi Languages.
The software simply scans the printed document placed on a flatbed scanner and converts the printed material to softcopy which is read by the JAWS software.
This softcopy which is in Unicode format can easily be converted to Braille using the Duxbury software for speedy Braille production.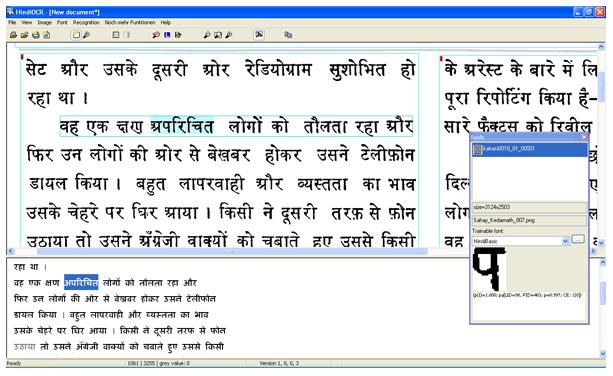 FEATURES
Over 99% recognition accuracy on the character level in well printed documents.

Built-in classifiers for the 180 most popular Hindi-Devanagari letters and ligatures - no training necessary!

About 9 seconds per page on a standard desktop computer

Unicode output in Devanagari

Export of recognized text as Unicode-RTF

Hindi lexicographic information for improved recognition results

Training option for unusual and rare fonts

Processes standard image formats (bmp, jpg, png, tiff, gif).

Works on Windows XP® and Windows 7®
Available in 2 versions:
Standard and Professional
Features of Professional Version in addition to above:
Enables digitization of large amounts of text images in short time.

Recognition speed about 20% higher than in the Standard version

Batch recognition: Import large numbers of images, and have them recognized "at one go".

Batch export: Export all recognized text in one file.
For more information and pricing, please contact us