FSReader DAISY Player Software for PAC Mate and Desktop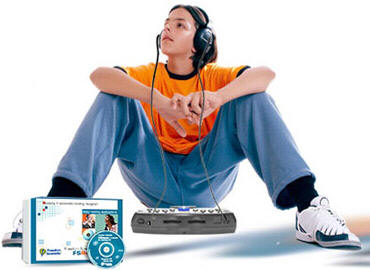 Freedom Scientific's FSReader software opens a world of accessible reading material for the visually impaired.
Used with Digital Accessible Information SYstem (DAISY)-formatted talking books, FSReader™ delivers a host of powerful navigation tools for reading.
FSReader and JAWS
FSReader is included FREE with JAWS®, the world's premier screen reader, for easy accessibility, whether you read for pleasure, business, or school.
Download or purchase on CD DAISY 2.0 and DAISY 3.0 e-books (the ANSI/ NISO standard) like those available from Bookshare.org, and browse, read, and study.
FEATURES
Go directly to

a specific chapter, heading, or page

or directly to

the place you want to begin reading, either from the table of contents, by browsing headings, or even by flipping pages.

Create as many bookmarks as you need for places you want to return to quickly. Give the bookmarks your own unique and easy to remember names.

Speed up or slow down speech whether listening to a recorded narrator or synthesized speech

In books containing recorded audio, you can fast forward, rewind, and even speed up narration. This makes it easy to return to a section to review or to zoom past any section.

When you return to reading after a break, your book opens to where you stopped reading.

Using JAWS, switch between recorded audio and text with synthesized speech.

With JAWS, read along with audio using refreshable braille displays.

For more information and pricing, please contact us