Computer Access
JAWS Talking Software
JAWS (Job Access With Speech) converts your computer into a talking computer. It reads out all the matter that is on the computer's screen through your computer's speakers/ headphones, thus enabling a visually challenged person to use the computer independently and work on all MS Windows applications.

Supports English, Hindi & Marathi languages. Click here for more details
NEW FEATURES
Compatible with Windows 8

Text analyzing tools for identification of errors and proof reading/ formatting of document by the blind/ visually challenged

OCR facility to read PDF and Scanned Graphics having embedded text

Flexible Web feature for hiding/ignoring Google Ads and Advertisement frames etc. for direct reading of the main content on websites with facility to create rules for all website or specific WebPages.

Clipboard Text Viewer – allows copying of text from multiple locations and sites and presenting it all together.

Enables blind to fill electronic forms in web pages

Compatible to applications like Finacle & SAP to ensure proper training of persons to use the screen reader when employed with banks and companies after education

Facility of tandem feature for E-learning and online coaching with ability by tutor to take control of student's computer

Research It feature for quickly looking up meanings of words or information on the internet.

Facility to add Indian words to in-built dictionary of the software for accurate pronunciation.

Graphic labeler feature enabling the blind to give text labels to Icons, Menus, and Links etc. for better accessibility by the blind in any special Windows Applications

Script Manager Feature for creation of scripts for accessibility by the blind for special Windows based applications not otherwise accessible.

Virtual ribbon menu for accessibility and easy navigation between groups and items from Windows 7 onwards

Supports use of refreshable Braille Displays as well as control PC directly from them.

Instantly identifies Pop Up Windows that appear during operation on account of firewalls and anti-virus programs.

Automatic reading of Column and Row titles in an Excel spreadsheet with the Excel Define Name feature

Ability for reading of Daisy books / files with FS Reader
Other Features
Independent Installation
Since JAWS has an interactive talking installation, the Visually Challenged can install JAWS easily & independently without sighted assistance.
Indian Accent Voice
JAWS provides a choice of different voices, which now also includes an Indian Accent Voice - Sangeeta.
In-Built Training Tutorials
JAWS has built-in Basic Training Tutorials in DAISY format with text and audio instruction to help beginners to understand how to navigate the Windows environment with JAWS. A free, fully-functional demonstration version of the FSReader DAISY player application is also included.
JAWS supports a host of applications with little or no customization.
Some of these include versions of Microsoft® Office Suite, Internet Explorer, MSN Messenger®, Corel® Word Perfect, Adobe® Acrobat Reader, and many more.
Braille Display Support
JAWS also outputs to refreshable Braille displays, delivering unmatched Braille support. Both contracted and un-contracted Braille is supported. This function has also enabled the deafblind to learn and operate the computer independently.
Unparalleled Internet Support
JAWS makes Internet access very easy for the visually challenged with features like links lists, frames lists, forms mode, reading and navigating HTML tables, navigation quick keys for HTML and PDF documents, PlaceMarkers, Custom Page Summary, Custom Labels for Web page elements, and more!
Multilingual Synthesizer Support
The included Eloquence multilingual synthesizer supports British English, American English, French, French Canadian, Latin American Spanish, Castilian Spanish, German, Italian, Brazilian, Portuguese, Finnish. This feature is very useful for those studying and using foreign languages.
License Authorization
Authorization and registration can now be easily accomplished over the Internet. Alternative authorization and registration can be arranged for those without Internet connections.
Personalized Settings
JAWS enables users to have their own personalized settings across all applications which can also be shared with others.
Skim Reading
JAWS enables the visually challenged to browse through large documents easily with the use of this feature.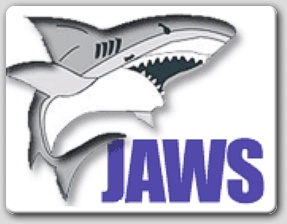 Custom Summary
This feature of JAWS allows creation of a summary of important points in a document or excel sheet.
Support for Remote Access
JAWS also supports remote access using Citrix and Terminal Services (extra authorization is required). This feature enables the visually challenged to get access to a computer or a network from a remote distance. Useful for E-Learning or in Companies having a large branch network.
JAVA Support
JAWS provides support for JAVA applications.
JAWS Scripting
A unique scripting language is included for further customization of nonstandard Windows application and proprietary software. Electronic manuals are included that cover the Basics of Scripting and the Freedom Scientific Developer Network to help you understand and write JAWS scripts. JAWS also includes tools for customization without the need for writing scripts.
Reasons why JAWS is superior:
The JAWS Screen Reading software has a number of special features making it the most demanded and user-friendly Screen Reading software by the blind worldwide. We list below details of the same:
JAWS Help System
JAWS for Windows makes the process of learning new computer systems and applications that run on those operating systems a lot easier. Most new users of JAWS find it intuitive and easy to master. JAWS also provides a fully developed help facility that is always available with a touch of a button on your keyboard. You can access JAWS help through the JAWS Help menu or directly from your keyboard.
Hot Key Help
Press INSERT+H to get instant help for the JAWS hot keys or Windows short cut keys available in the current dialog window.
Screen Sensitive Help
Press INSERT+F1 to hear a description of the current focus or position you are in and also JAWS prompts you with guidance of what to do Next i.e. If you are a beginner or learning computers and get stuck or do not know what to do, by pressing INSERT + F1 in the keyboard, JAWS software shows you the way.
Personal Tutor while learning Windows
JAWS now offers Tutor mode to provide Keystrokes and quick navigation tips as you move through Windows applications.
Access Key Announcement
JAWS helps you to operate the computer at a faster pace by letting the user customize the announcement of the access keys (the underlined letters used as shortcuts) for performing various functions. This helps the user quickly navigate and activate the controls and menus.
Keyboard Help
In JAWS when you press INSERT+1 you enter Keyboard Help mode where when any key is pressed you hear its name and a description of its function with a brief synopsis. This is very useful in teaching the keyboard to the blind.
Online Help
JAWS provides an online reference guide which is available for quick support on any topic.
JFW Configuration Capabilities
You can customize any of the JAWS for Windows standard settings for the current application or across all applications. JFW comes with various utility managers to help you accomplish this.
Keyboard Manager
This manager lets you browse and change JAWS keys for any application or all applications. Each key assignment is accompanied by a description of its function.
Graphics Labeler
This manager lets you give meaningful names to the graphics displayed on your screen and help the blind user to recognize graphics on your screen.
Dictionary Manager
This manager lets you store special pronunciations for the current application or across all applications by changing default pronunciations to words or phrases.
Configuration Manager
This manager lets JAWS for Windows give you the utmost flexibility to "hear" the screen in a personally tailored manner. You can change the way things are spoken and how much is spoken; change the verbosity, screen echo, graphics verbosity, punctuation and numbers.
Frame Manager
This manager lets you create screen boundaries and then have that area monitored for automatic reading of all, highlighted or no text. You can assign a frame to a key so that you can read the area on demand. This feature is available on an application basis or across all applications.
Script Manager
This manager lets you modify JFW standard scripts or create your own to accommodate even the most difficult, non-standard Windows applications.
Easy Speech Guided Self-Installation by the Blind
JAWS has a very simple talking installation that enables the blind to install the software themselves. Just insert the CD into the CD-ROM drive and in a few minutes, JAWS for Windows will install on your computer. Not only will the installation be easier, but also right from the moment it starts, your computer will talk. The installation is interactive; giving you the information you need, immediately, verbally, without having to second-guess the installation process.
JAWS Special Features at a Glance
1

Online Help

JAWS provide a great deal of support to a new user of computers. It has four levels of help that make it easier for beginners to learn or work on computers even if they get held up in any application while on the job as explained above i.e. Screen sensitive help, Hot key help, Keyboard help and on line help.

2

Uses Windows Commands

The unique feature of JAWS is that it uses the same standard key commands used by M S windows so that the blind user does not have to remember too many keys. Besides, in the process he learns computers faster and can work on any program or application.

3

Keyboard Help

JAWS enables a blind beginner to computers to learn the keyboard by simply pressing the keystroke insert+ 1 on the number row and henceforth he can continue to orient himself or practice on the keyboard without affecting the computer.

4

Support In Tables In MS Word And Excel

JAWS is the only screen reader that provides maximum support in accessing or reading tables in a MS Word document or Excel or for that matter navigating in any spreadsheet.

5

Web Accessibility And Designing

It is possible for a blind person to even design web pages on account of the tremendous help and support provided by JAWS for handling graphics, frames, borders, html headings, colour backgrounds, etc.

6

Developed By Blind

Most blind user friendly since developed by blind persons thus ensuring maximum accessibility.

7

World Class Software Developers Testing For Accessibility

Most demanded and used by blind in over 60 countries and selected for testing accessibility by world class software developers such as IBM, Oracle, Sun Microsystems, Infosys, Microsoft, etc.

8

Formal Training In India

More than 30 major blind organizations in India use JAWS to train the blind in computers.

10

Tutorials For Beginners

JAWS has in-built basic training lessons to help beginners to self learn fundamentals of computers & windows. It gives the blind user prompts at every level as what to do next and also informs the access keys he should press to perform the action desired.

11

Use Of Same Keystrokes In All Applications

Uses the same key commands used by MS windows across all applications and provides a speech support instead of making the blind person learn many complicated keys. This feature is very helpful to computer users who become blind later in life.

12

Direct Link With Microsoft For Immediate Upgradation

JAWS upgrades immediately Microsoft introduces any new operating system or upgrade.

13

Provides Support To Java Applications From Sun Microsystems & Oracle

JAWS supports complicated Java applications very well

14

Enables Scripting

JAWS is the only screen reader that enables scripting of its program to make complex applications accessible so that blind people can be retained or hired into meaningful and productive jobs, it is extremely rewarding to be able to do this repeatedly because of the flexibility JAWS provides.

15

Other Supportive Software With Speech Recognition For Hands Free Access To Computers By Blind With Physical Handicaps

Software J-Say have been developed to help JAWS users to work on computers even if they cannot use their hands.

16

Surfing Internet

With JAWS navigating through the Internet is very blind user-friendly. A blind person can identify links, headings, frames, skip past listing of links repeatedly. He can directly land on the edit field when conducting a search in Google and then can easily write his search topics.

17

Filling Electronic Forms

JAWS directly lands on the edit fields in forms making it very easy for the blind person to also fill forms accurately independently. The user can with one keystroke 'Insert F5' manage filling forms with ease.

18

Accuracy Of Cursor Location On Page In MS Word

JAWS informs the blind person how many inches from top and left of the printed page. This is invaluable for producing professional documentation.

19

Working With Pictures

Enables a blind person to manipulate a graphic, even know whether it's there in the first place, in a document, position it, change its aspect, its tilt, work with Word-art, all of this is invaluable. He can create his own business cards with a logo developed by a sighted friend with this feature, being able to position the graphic where he wants it and choosing its borders, colors, etc.

20

Excellent Support To Power Point

JAWS provides excellent support in using and accessing Power point thus even a blind person can make presentations like a sighted person in conferences or board rooms.

Mr. K. Ramkrishna, General Manager of IDBI Mumbai, is a living example of the same.

21

Ease Of Use

Very easy to pick-up for a beginner to computers or an advanced computer user

22

Immediate Help

Online help wherever you are, JAWS with its virtual viewer tells you what you need to press to continue at a press of a button.

23

Detection Of Languages In Word Documents

JAWS detects if there are any foreign language words while reading and can quickly change to read the same
For more information and pricing, please contact us