<![if !vml]>
<![endif]>
MAGic Screen Magnification Software Professional - Latest Version 12
Enables Persons with Low Visionto operate the Computer Independently
FEATURES AT A GLANCE
MAGic magnifies the computer screen from 1.1 to 36 times its normal size to suit the comfort level of the user having Low Vision to enable him/ her to operate the computer independently and also to give training in computers to those with low vision/ partial sight.

It has in built colour enhancements which eliminate glare and increases contrast reducing eye fatigue

It also has mouse enhancements which makes finding & tracking the mouse easily.

Has a cursor enhancement which helps to locate the cursor with colorization

It has in-built human voice which reads through the documents, e-mail & web pages.

Easy to Learn - comes with large-print user guide and more than five hours of basic training in accessible DAISY text and audio.

Available in 2 options – With Speech and Without Speech
MAGic Magnifies The Computer Screen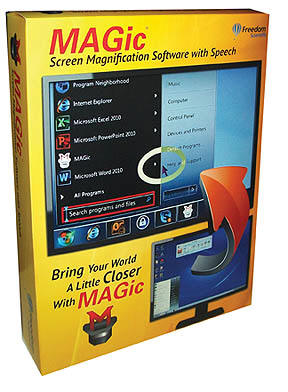 MAGic lets you magnify your computer screen from 1 to 36 times its normal size. Choose from several adjustable views to see both magnified and unmagnified areas of the screen.
Features
Independent Installation
Since MAGic has an interactive talking installation, the Visually Challenged can install MAGic easily & independently without sighted assistance.
Mouse and Cursor Enhancements
These enhancements help you track the location of the mouse pointer and cursor on the screen. You can choose from a wide variety of enhancement styles. MAGic lets you change the color of these enhancements, apply transparency effects, adjust their size, and more.
Color Enhancements
Color enhancements let you change how colors appear on your screen. You can apply tinting, view your screen as two colors (monochrome), invert brightness and colors, and switch colors. All these enhancements can be combined to meet your specific needs.
Other useful magnification features include the Quick View Frame for monitoring important areas of the screen, a Locator feature to help you find items, keyboard panning controls, tracking and synchronized highlighting, and much more.
Customizable Magnified Views
Choice of several customizable magnified views that let you see both an unmagnified and magnified area of the screen simultaneously. Switching and resizing views is easy and quick.
Panning
This feature allows you to move the magnified area of the screen with the keyboard.
MAGic With Speech Option
MAGic with Speech option allows you to use synthesized speech to read text using the mouse or keyboard.

Reading documents is easy and quick. Read by word, line, sentence, or paragraph, or use the mouse to read words or lines that you point to. Mouse speech allows you to easily clarify words or browse a document by simply moving the mouse over the text you want spoken.

Customize MAGic speech by changing the pitch, voice, speech rate, and verbosity level. Use magnification and speech together, or independently.

MAGic automatically announces focus changes as you navigate documents.

Use sounds to indicate control information in dialog boxes, letting you gather auditory information more quickly.

Save your speech settings as schemes. Easily switch to the scheme best suited to the task at hand.

Whether you are navigating by keyboard or by moving the mouse, MAGic starts reading from your point of focus when you initiate document reading. Close your eyes, sit back and listen, or follow along as MAGic highlights each word as it is spoken.

Documents automatically scroll as the reading advances to the next page.

MAGic uses many of the same reading commands as JAWS, making learning to use either product easier and more intuitive.
Tracking and Synchronized Highlighting
MAGic highlights text as it reads, and you can control the size, color, and style of highlighting. Tracking features move the magnified area so the mouse pointer, cursor, highlighting, and other screen elements remain visible.
Locator
The Locator feature lets you quickly jump to different areas or find items on your screen.
Quick View Frame
The Quick View Frame allows you to monitor a region of the screen while you work in other areas. MAGic displays this region in a small, inset window so you can see any changes or updates to that part of the screen.
Compatible with JAWS
MAGic is Compatible with the world's most popular screen reader, JAWS for Windows.
Online Help
Detailed, easy-to-use online Help and context-sensitive help for all dialog box options.
Application Specific Settings
MAGic allows you to designate and save specific settings for applications. These settings are automatically applied whenever you switch to the application.
Application Specific Functions
MAGic provides special functions for Internet Explorer, Microsoft Word, and Microsoft
Excel to make working with documents in these applications even easier. Tools like the links list and form field list gather information into a single list and allow for easy navigation.
Support for Remote Access
MAGic also supports remote access using Citrix and Terminal Services (extra authorization is required). This feature enables the visually challenged to get access to a computer or a network from a remote distance. Useful for E-Learning or in Companies having a large branch network.
For more information and pricing, please contact us
Home Page