Instant Text Readers/ Magnifiers - Computer Supported
PEARL Instant Reader
Comes bundled with Openbook OCR Scanning & Reading Software
These are hi-tech Instant Reading Camera Devices that connect to a Computer or Laptop and convert it into a Portable Hi- Speed Reading System.
FEATURES

Foldable Camera Device

Lightweight, Portable & Easy to Carry

Built-in LED Lighting for use in low light environments

Simple & Easy to use – takes a snapshot of your printed reading material and within 5 seconds instantly reads it aloud in a Clear Indian Voice – Sangeeta

Can Scan Thick Bound Books without the need to remove individual pages

Scanning Speed - 20 pages per minute

Multiple Choice of Reading Voices & Adjustable Reading Speed
Reads Foreign Language documents with native speaker voices

Magnifies & Reformats the scanned documents into Wrapped Text – for ease of reading avoiding constant panning of the document from left to right

Also Works like a Video Magnifier to magnify any language text, diagram or object placed under the camera

Low Vision Features – Enlarge font size, change the foreground/ background colors, have individual words spotlighted as they are spoken

Supports Braille displays like Freedom Scientific's Focus and PacMate for reading scanned files in Braille, helpful for the Deaf-Blind and those who prefer to read their books in Braille.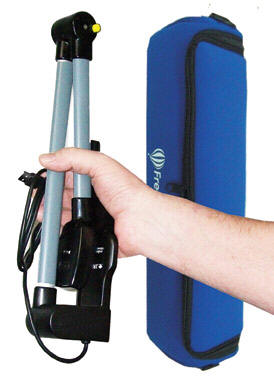 Provides Hi-speed conversion of books into digital format

Converts scanned files to MP3 Audio format

Supports Quick Customizable Production of Large Print Books

Translates documents to Braille for direct embossing on a Braille Printer

Enables Direct Editing, Highlighting & Adding of comments & Bookmarks to scanned documents

Enables sending of scanned documents as Fax messages

Makes Photo Copies of documents

Ability to Export Documents to Microsoft Word or Notepad

Has an In-built Dictionary & Thesaurus and a customizable Pronunciation Dictionary

Can Read 18 foreign languages

Comes with its own protective carrying case
Ideal for Public Libraries, Educational Institutions, NGOs, Classrooms as well as for Personal Use for instant reading by Visually & Physically Challenged Young Children, Housewives & Senior Citizens.
For more information and pricing, please contact us