TOPAZ XL HD Desktop Video Magnifier
TOPAZ desktop video magnifiers make seeing type, handwriting, and small details easier than ever before
Just place a letter or picture on the moveable reading table, and adjust the magnification level and display colours that best suit your eyesight. Your document displays in super large size on the screen. Anything that fits on the reading table can be magnified.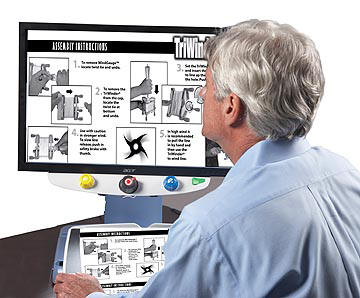 The TOPAZ® XLuses a true High Definition camerato produce the clearest, sharpest image andcrispest text available. The sharp image allows the TOPAZ XL HD to offer the lowest magnification and widest field of view of any desktop video magnifier, so you can maximize the amount of information displayed on the screen - especially with a widescreen monitor. This reduces the need to move the reading table when reading text, looking at photo albums, or working on crafts and other projects.
Many users will find they can display an entire page of text in high contrast and read comfortably without moving their document back and forth under the camera.
FEATURES
Sharpest image available, as low as 1.5x

16 Magnification Levels

Widest viewing area available – fit an entire page across the screen

Attractive ergonomic design to suit your home or office

Directed LED lighting for a bright work surface without glare

Reading Lines and Masks

8.25 inches of workspace under the camera for working with different objects

Freeze Frame

Auto Focus

Focus Lock

Position Locator for exact document placement

Find Feature

Extra large reading table

Push button controls

30 customizable high-contrast text color modes

PC Compatibility
Hear the TOPAZ XL HD Read Aloud by Combining OpenBook and GEM
By Adding the GEM and OpenBook Software, you can have TOPAZ XL HD Read Aloud for you!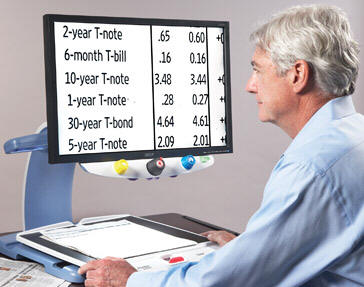 How It Works?
Press a key, and the High Definition image from your TOPAZ XL HD is sent to OpenBook® scanning and reading software, which automatically performs OCR and begins reading aloud from the contents of your screen.
Benefits:
Zoom out and see across an entire page

Scan multiple images as one document, edit the document, and save it with or without the original images

OpenBook recognizes multiple columns and reformats them on your screen for easy, continuous reading

Change font size and colors, and even print out a hard copy with your enhancements

View in split screen, so you can see your reading material right next to your document, Web page, or other application

Capture images with a keystroke, flip through images, and save to folders

Save your document as an MP3, so you can listen on the go

Choose from an array of human-sounding reading voices and languages
Some other great activities that you can resume include reading:
Tiny print in contracts

Numbers in the phone book

Instructions on prescription bottles, even round and square containers

Labels from products of all sizes and shapes

Crossword puzzles Add the TOPAZ

Controls on portable telephones and remote controls

Newspaper and TV program listings
Size: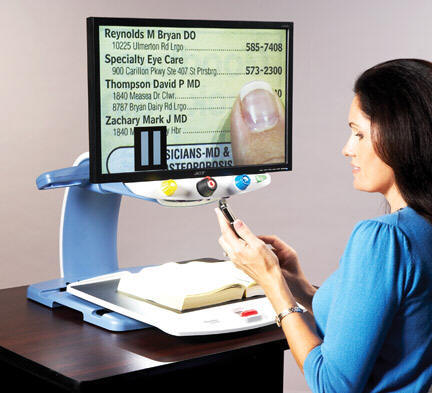 25 inches H* / 17.2 inches W / 17.3 inches D / (63.5 cm / 43.7 cm / 43.9 cm)
Weight:
Camera Only: 32.8 lbs / 14.1 kg

17-inch LCD 39.5 lbs / 17.9 kg

20-inch widescreen LCD 41 lbs / 18.6 kg

22-inch widescreen LCD 42.1 lbs / 19.1 kg

24-inch widescreen LCD 43.7 lbs / 19.8kg
Magnification Range:
17-inch monitor: 1.7x to 61x

20-inch monitor: 1.5x to 56x

22-inch monitor: 1.8x to 66x

24-inch monitor: 1.9x to 67x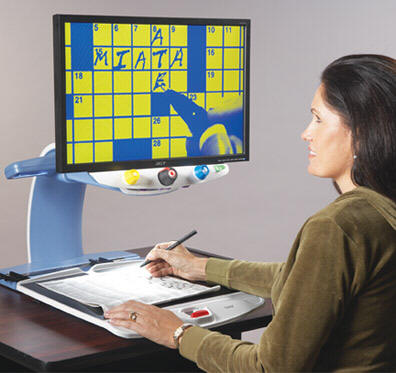 Power Supply:
Input voltage 100-240V AC
Frequency 50-60 Hz
Single wall plug
Controls:
On / Off – toggle switch

Color mode select – dial

Magnification – 16-position dial

Freeze Frame – push button

Brightness – dial

Find – push button

Focus Lock and position locator – push button

Masks / Lines select – push switch

Masks / Lines position – wheels

Toggle PC and camera views – push button

For more information and pricing, please contact us