Index BrailleBox V5
Super Speed Cut-Sheet Braille Press
The world's best embosser for high volume production of braille and tactile graphics using cut-sheet paper with Excellent Quality Rounded Braille Dots.
A revolution in the field of Braille Production - Cost Effective and Hi-tech!
<![if !vml]>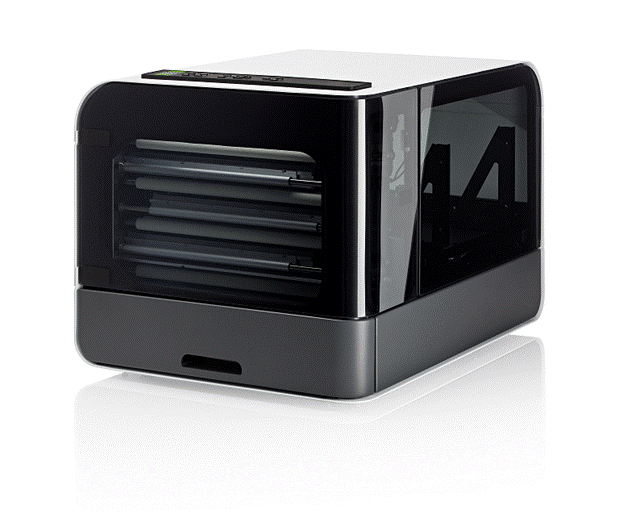 <![endif]>
The 5th Generation Index BrailleBox V5 is a Super Speed Cut-Sheet Double Sided Automatic Braille press from Index Braille, Sweden
Index V5 Embossers enable you to emboss files directly from a USB Pen drive without using a computer or even a Smart Phone or Tablet PC using Wi-Fi
FEATURES
Production Capacity: 1000 braille pages (A4) per hour

Simple and Easy to Use: Place 400 sheets of Braille Paper in the Input Tray, give the emboss command and after embossing the embossed Braille paper gets collected one over the other in the Braille output tray.

Automated Braille Tray: that opens/ closes automatically at the press of a button on the Control Panel.

<![if !vml]><![endif]>
Interpoint (Double sided) Braille: Embosses on both sides of the Braille paper making it cost effective.
Supports a wide-variety of paper formats: produces Braille documents on easily available cut-sheet paper
The first affordable high speed Braille Press: of its kind at only 20% of the cost of a volume Braille Press!
<![if !vml]><![endif]>

<![if !vml]><![endif]>

Produces Books in 4 Page Magazine Format:

Can produce braille books and other lengthier documents in 4 page magazine format using cut-sheet paper that can easily be centre-stapled or stitched.

When printing in booklet format, the printer is loaded with A3 size paper (or Tabloid) and embosses vertically (or sideways) on the page in A4 (or Letter) size pages with a folding line down the centre of the paper. Each Braille page is automatically embossed in page order, once the document is completed, simply fold along the folding line, centre-staple/ stitch and your book is ready! It's that easy, all done automatically.
Emboss and manage your Index V5 Embosser from a Smart Phone or Tablet PC using Wi-Fi:

Supports direct embossing from any Smart phone or Tablet PC using the Index app. The embosser will use Index-direct-Braille (idB), an embedded direct printing application, to print files automatically. idB translates braille into Grade 1 or Grade 2 braille, formats the page layout, duplexing and page number. Print emails, notes, online content, etc. by saving the text in any standard file format such as doc, pdf, txt or brf. Then emboss braille from your mobile device such as iPhone, Android or Windows phone.

<![if !vml]><![endif]>
Using the same web interface (Index app) you can also:
· Monitor embosser status and progress.
· Repair and install the firmware on the SD card.
· Run service functions for testing.
· Set up desired print layout, communication settings and endless other embosser MENU options.
<![if !vml]><![endif]>

Emboss files directly from a USB Pen drive:

Connect a USB pen drive directly to the USB port of the Index V5 embosser and directly start embossing without using a computer.

Back up/ Restore directly with USB Pen Drive:

You can back up/ restore the braille settings, page layouts, etc. directly from the embosser to a USB pen drive thus eliminating the need to do it again in case it gets deleted accidently or you want to copy the settings to another Index V5 Embosser.
FREE In-built Braille Translator - Index Direct Braille (idB):

idB is a direct braille printing application built into the V5 braille embosser. It is available free of charge and is compatible with Windows, Mac and Linux computers.

With Index Direct Braille users can directly emboss text files of type .doc .pdf .txt and .docx into either Grade 1 (literary) or Grade 2 (contracted) braille without the need for a separate Braille Translation Software.

<![if !vml]><![endif]>
idB automatically translates the document into braille as per the language selected, formats the page layout as well as includes the Braille Page number. This braille translation function is available for many languages including Indian languages through the Liblouis open source project.
Excellent Braille dot quality:
High quality hammers provide excellent braille dot quality, a longer life cycle, higher embossing speed and lower power consumption.
Emboss High Resolution Tactile Graphics:

Supports production of high resolution tactile graphics along with text on the same page specially for Maps, Graphs, Diagrams for subjects like Geography, Geometry, Economics, Maths, Computers, Sciences, etc. using Tactile Graphic Design Software in conjunction with Duxbury Braille Translation software.

9 Flexible Page layouts:

Has the option to modify 1-9 page layouts based on paper size, duplexing, character per line, lines per page and facility to create own layouts as per choice. User can directly select/ edit/ add and delete a Page layout from the control panel.

<![if !vml]><![endif]>
Low Noise Level: Completely sealed-off bullet proof glass cabinet that reduces the noise level so that the Braille press operator can be seated in the same room.
<![if !vml]><![endif]>

Easy to Use Control Panel:

· Provides the user complete embosser control

· Tactile easy to feel buttons

· All buttons labelled in Text and Braille

· Talking buttons that speak in Indian Accent Voice - Deepa

· Provides LED highlighted – current embosser status information
Network Capability: supports embossing from a network.
LED Lights embedded inside the embosser:
Provide good lighting to see the printing process as it Lights up the head area and Braille paper output tray area which is also helpful during maintenance.
Easy On-site Maintenance:
Can be easily maintained by the Braille operator himself without the need of a Service Engineer as:
· No mechanical adjustment is required.
· No lubrication of moving parts.
· Hammers can be changed by Braille operator reducing down time and delay
Remote Support:

Now service can even be provided instantly via internet, requiring only a network connected V5 embosser and a remote support session that is easily set up with only a few key strokes. Once connected, the Index Braille support team can assist in the service of the embosser by accessing your embosser's internal software. From there they can diagnose and solve any issues, all while sitting at their desks in Sweden.

<![if !vml]><![endif]>
<![if !vml]><![endif]>

Prompt After Sales Service Support:

We have a network of Technical Service Engineers all over India to provide prompt after sales service to ensure smooth functioning of Index Braille Embossers.

Live Demo available at our Assistive Technology Showroom:

Visit us in Mumbai for a live demonstration of the entire range of Index Braille Embossers to witness the excellent benefits they offer and a host of other Assistive Technologies!
Technical Specifications
BRAILLE

ELECTRICAL

Embossing speed

300 cps

Voltage

100-240 V AC

Forming method

Three embossing heads with 13 hammers in each

Power max

400 W

Power stand by

5 W

MEASUREMENTS

COMMUNICATION

Height

56 cm (22.05 in)

USB

<![if !vml]><![endif]>

Width

72 cm (28.35 in)

USB memory stick

<![if !vml]><![endif]>

Depth

90 cm (35.43 in)

Wi-Fi network

<![if !vml]><![endif]>

Net volume

362.88 dm3 (12.81 ft3)

Wired network

<![if !vml]><![endif]>

Net weight

68.2 kg (150.04 lbs)

Bluetooth

<![if !vml]><![endif]>

Noise level

60 dB(A)

Supports mobile devices

<![if !vml]><![endif]>

PAPER

Web interface

<![if !vml]><![endif]>

Cut-sheet

<![if !vml]><![endif]>

Free firmware upgrade

<![if !vml]><![endif]>

Paper Holding Capacity

400 sheets

Supports idB

<![if !vml]><![endif]>

Paper weight

120-180 g/m2 (80-110 lbs)

Printer driver for Windows, Mac and Linux

<![if !vml]><![endif]>

Paper width

A3 (297x420 mm), Tabloid 11"x 17"

Paper length

B4 250 x 353 mm, 11"x 11 x 5"
Range of other Index Braille Embossers:

<![if !vml]><![endif]>

<![if !vml]><![endif]>

<![if !vml]><![endif]>

Tractor Feed Braille Printer

Cut-Sheet Braille Printer

FanFold-D V5

Super Speed Tractor Feed Braille Press
To order or for more information please contact
Sole Distributors of Index Braille, Sweden for India and neighbouring countries
Braille World
(A group company of KARISHMA ENTERPRISES)
E-mail: contact@KarishmaEnterprises.com
Website: www.KarishmaEnterprises.com